Tripped Up...
Sat/Dec/2012 01:47 AM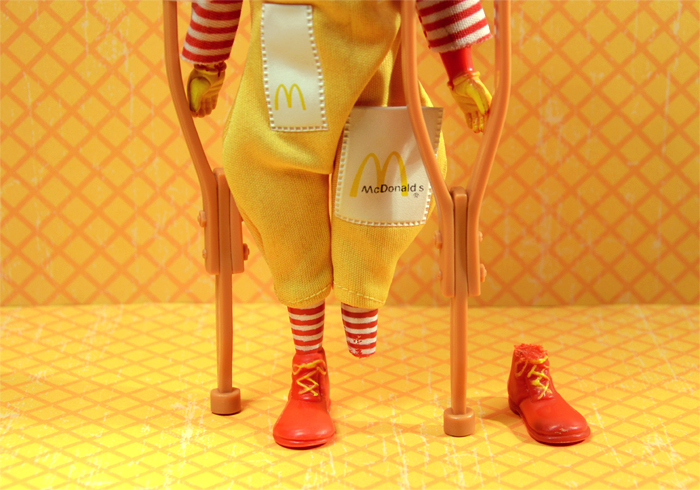 I can't really describe the feeling I got one late night this past October when I went back into our dimly lit sun room and sawed of the foot of this Ronald McDonald figure. It was a combination of this really macomb, psycho, serial-killer feeling mixed with a healthy dose of surprised, fresh amusement and twisted joy in the lengths I have gone for a laugh. Even heading to McDonalds at midnight to buy a 20-piece box of nuggets was a bit off-putting. And yes, I ate a few of them with Bar-b-que sauce.

See the finished piece titled,
McBetes
in my new series 3 of photos.

A little side note: So I shot the video of the nuggets and then left the nuggets in the fridge for at least a week before I photographed them. They looked exactly the same as they did the night I brought them home. I imagine that would have remained the same for at least a month. McGross.
I get by with a little help from my friends
Sat/Dec/2012 01:46 AM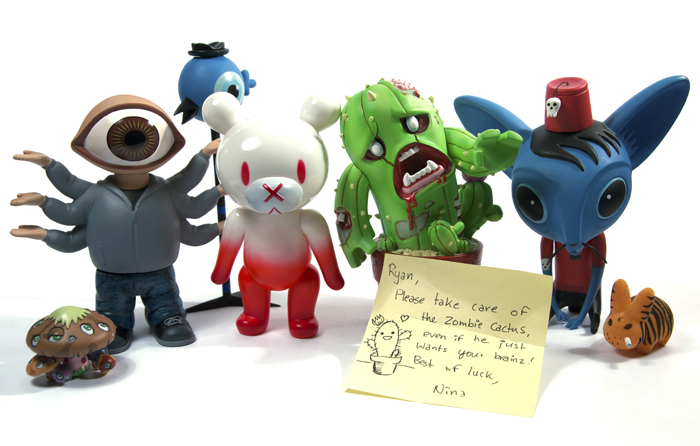 "This goes out to you know who you are..." -Doom!
Sometimes there's a toy I just can't find on my own and I come across a collector who has that hidden gem. These toys in the image above were all borrowed from such cool collectors who I've enjoyed getting to know along the way and in the process from concept, collecting, to capturing the final image.

Recently after shooting that tiger Labbit I had the awkward experience of reaching back out to the collector to share the finished product in which a baby tiger had to pick out the older tiger who molested it. Pretty heavy stuff when you're typing it out in an email trying to explain that it should be funny, or cute... A couple weeks went by with no response from the person I borrowed the Labbit from. I was like, yeah, I get that, not what she had in mind. Finally she responded and loved it! Phew!

That said, if you are reading this and have some far out, hard-to-find toys, I'd love to hear from you. I offer to cover shipping for the borrowed toys both ways, guarantee their safety, and send the owner a signed #1 print of the edition. Think about it.
Killer Klown Kustomz
Sat/Dec/2012 12:24 AM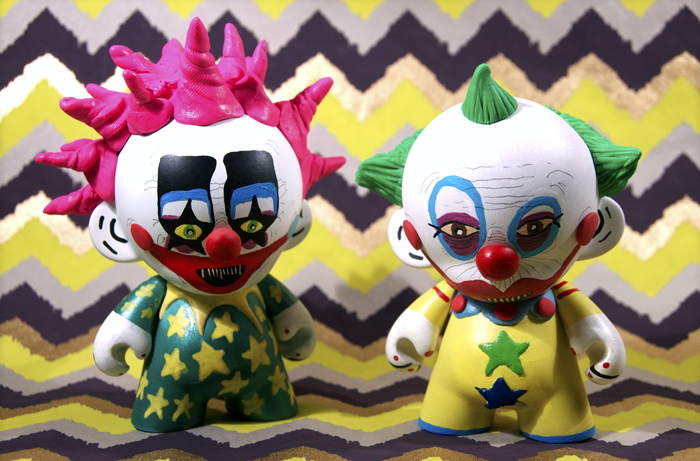 Get a load of these Klowns!!!
I came across these awesome custom clown figures, based off of the klowns from the cult movie,
Killer Klowns From Outer Space
, on Ebay a few months ago and knew it was time to start featuring custom toys in my photography. It's a door that needed to be opened. There's an entire world of custom toys that I'm just becoming more aware of and really impressed by.

These custom toys were done by a recently married couple, Amber & Maurice Guy! They call themselves Horror House and are known for making replica props for classic horror films such as 'Halloween' and 'Friday the 13th, as well as several other munny's. If anyone is ever interested in anything, or is looking for custom orders please contact them via email.
lilbitsxx@yahoo.com
.

You can see one of their clowns in a new photo in my third series titled,
The Greatest Show On Earth
. If you're a custom toy artist and would like to see your figures in my work, hit me up.